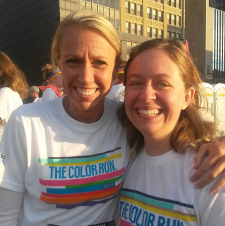 Kayla Bohman
It was weeks before my son Christian's 1st birthday, and I desperately needed to be planning his party, but instead I found myself standing looking in the mirror and thinking "If I could just lose this extra weight." This wasn't the first time I had done this, it was something I had done hundreds of times. What was different now was that I was thinking about my son, and the fact that he was soon going to be running all over and I was going to want to keep up with him, not watch him from the couch. I decided right then and there that more than anything else, I wanted to be a healthy mom for him, one he could look up to, and I knew at that moment I wasn't that person.

Although I had started spinning at Julie's a month or so before my revelation, and that was a great workout for me, I knew that for me, it just wasn't enough. As soon as I began spinning I would hear people talk about how great Julie was, and how great the gym itself was. One Saturday I decided to take a deep breath and talk to Julie about my situation. In thinking back, I could not have possibly realized how much that split-second decision, and the phone call that followed, would change my life. I was able to open up to Julie; she listened and understood what I was going through. I felt so comfortably with her from the very beginning, and I knew she would be able to help me.

Shortly after, I started training with Julie once a week, and attending multiple classes at the gym. Not only is Julie great, but the other trainers and members are as well. Unlike other gyms, Julie's is like a family. From the moment you walk in, everyone makes you feel welcomed, supported and cared about. That support is honestly a huge part of the reason I am able to write this. Not only did I have Julie, but I had Tracy and Lisa helping me every step of the way, along with all of the other gym members, who have been cheering me on and celebrating every ounce/pound of my weight loss, and applauding me every time I am able to do just one more push up. From that split second decision, which was a little over 6 months ago, through today, I have lost close to 30lbs and 30 inches of fat. For me, Julie's Fitness Studio was that missing link, and that one phone call has changed my life. I no longer stand around wishing I could lose that extra weight, and making excuses to myself on why it hasn't happened. When my son turns 2 in February, I can truly give him the gift of being a healthy mom, and one that loves to run around with him!